Welcome to performance options for your VR6 engine! We have multiple options from HPA Motorsports, please see below.
HPA EFR Single Turbo for 3.2L VR6
More than just a turbo "kit", the EFR Edition Single Turbo System is engineered to exact specifications for each application and includes absolutely everything needed for your technician to install.
Please contact us for any inquiries regarding pricing. Kits can be custom tailored to your vehicle and performance needs.
Typhoon VR6 Supercharger Kit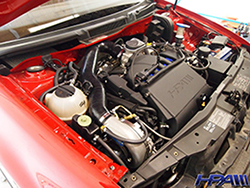 The Typhoon ixH kit is available exclusively for the Mk4 R32.
The resulting setup thrusts with the ferocity a tropical storm giving turbo-like horsepower in the upper RPM range. This package offers a cost effective mid level entry to the forced induction scene, leaving plenty of room to grow. As the Mk4 platform is getting older and consumables like water pumps and gaskets need to be replaced, the Typhoon ixH leaves room in the budget to augment the total package and outfit your project car with suspension, brakes, and chassis control upgrades.
CVP Short Runner Intake Manifold
Unleash your beast! CVP opens up new horizons for tuning the 3.2VR6. An industry first modular design, CVP can be configured for any FI or NA application. With only a few bolts, the modular design of the CVP intake manifold allows for easy expansion or re-configuration as your project car evolves. Available in three configurations to best suit the unique packaging constraints of your project car, the CVP is in ALL arrangements a "Short Runner" intake manifold. FI applications can use the long neck, to maintain the factory throttle body position or use the left or right short neck to position the throttle body closer to the intercooler for shorter boost travel and improved responsiveness.
CVP N/A Tuning Program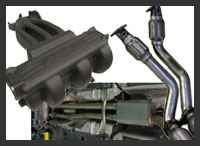 HPA has taken the guess work out of tuning the 3.2L VR6 with the CVP Level 1 and Level 2 performance package. Straight out of the box this system maximizes your 3.2L's performance potential. Level 1 bundles the cast aluminum CVP long neck short runner intake manifold with an upgraded set of down pipes, catalytic converters, exhaust mid section, and software update to net 30 whp and 20 ft.lbs of torque. Level 2 adds CVP-specific camshafts to further open up the top end.
HPA Twin Turbo Performance Vehicle Conversions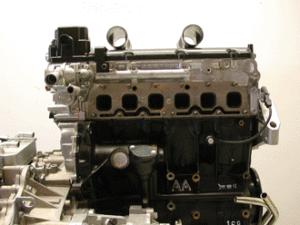 HPA builds some of the World's fastest vehicles. Not just a turbo kit conversion, each vehicle is a complete package where every component from brakes, suspension, wheels, tires, interior, and body styling are updated to create a cohesively prepared super car for your collection.
Now Available: FT565 equipped twin turbo vehicle packages. All conversions will be based on showroom stock vehicles delivered to our facility in Langley, B.C. Our team will work with you choose the appropriate base vehicle (Audi S3, Audi TT, or Volkswagen R32, Scirocco) and arrange for the factory original car to be delivered to our workshop for the transformation to begin.
The understated stance of the FT565 offers a discretionary experience flying below the radar of the local sheriff and unwanted car thieves, while out performing the unsuspecting branded super cars such as the Murcielago and Porsche. Just imagine the thrill of taking your car out to the theater without hesitation, then rocketing through your favorite stretch of back country roads at a pace Michael Schumacher would be proud of. The FT565 will free your inhibitions.
For all pricing inquiries please contact us for further information.