These are just some of the options available for your TSI. (Most information taken from HPA Motorsport's website)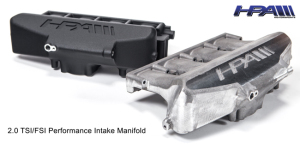 A 40% larger Plenum over the OEM manifold
24% higher flow than the FSI OEM manifold
12% higher flow than the TSI OEM manifold
Even distribution across all runners
Integrated water methanol port for single nozzle systems
Built-in vacuum port for accessories like boost gauges
Canadian manufactured cast aluminum construction
Durable matte black powder coat finish

  "To unleash the true potential of your 2.0T, the K04 turbo that is equipped on the Golf R / S3 is a much more robust choice than the factory equipped IHI (KO3) turbo, which runs out of breath mid-way in the RPM range. The HPA K04 Hybrid upgrade offers a higher operational boost range, while still working with the stock componentry; making for a natural and cost-effective upgrade. This K04 Hybrid conversion allows for a seamless integration, without the need for custom fabrications or aftermarket diverter valves. HPA has now developed our own high performance K04 Hybrid Turbo conversion that allows the factory K03 diverter valve to be installed in the OEM location, without a CNC port adapter. Our K04 Hybrid turbo assembly is one of the most advanced units available in North America, featuring many benefits over the competition, including:
All-inclusive hardware kit
Cast design for efficient heat transfer
Lightweight aluminum compressor for quicker spooling
With a market flooded with poor quality aftermarket clones and modified OEM assemblies, HPA has taken a fresh approach to supplying its customers with a K04 Hybrid Turbo for the Gen 1 and 2 EA 888 and EA 113 engines at an affordable price. Reworked OEM parts result in high costs with no appreciative performance gains. For over two decades, HPA has been building hybrid turbines for the VR6 powertrain, working with the very best suppliers both overseas and domestically. HPA ensures the tightest quality standards are maintained in castings and the assembly of our proprietary CHRA's which feature a larger rotor and steeper turbine fins for increased tq delivery and rpm range. HPA's K04 Hybrid uses a newly cast compressor housing to incorporate the factory placement of the diverter valve. By casting the housings, costly CNC adapters and housing modifications are no longer required and associated costs and manufacturing time are removed from the kit assembly. To ensure a good result at first fire up, each HPA K04 Hybrid includes a new diverter valve representing the latest design updates from the factory.  HPA is one of the only suppliers that has race proven our K04 Hybrid turbo kits. Hundreds of abusive hours were logged as we successfully campaigned a pair of K04 2.0T's in the 2015 
Pirelli World Challenge
. We are proud to bring a price competitive advantage to the market with a race proven pedigree.
BENEFITS OF AN HPA K04 HYBRID TURBOCHARGER
Gain up to 355HP / 347TQ
Direct Replacement (in most cases)
Compact Design Allows for Faster Boost Response and Turbo Longevity
Turbo Muffler Delete for Smoother Exhaust Gas Flow
Simplified Design for Ease of Install
Diverter Valve in OEM Position
Block-off plate for PCV system (TSI)
Knife-edged, billet compressor wheel
Quicker Compressor Spool
Higher Output Across the Full RPM Range
As the factory IHI/KO3 runs out of breath at 5500rpm, the performance advantage of the K04 can be maximized by adding HPA's Cast 2.0 Short Runner Intake Manifold. As the K04 pumps more air from 5500 RPM to redline, the HPA intake will support this demand by flowing 12-24% more air into each individual intake valves set. With the 2.0 Intake Manifold's 42% larger intake plenum, initial throttle demand will be met with greater volume, allowing your software calibrator to develop more low end TQ. Take advantage of HPA's race developed calibrations to fully maximize the RPM band of your 2.0T."

  Maximizing engine performance starts with engine heat management. Turbo charged applications generate extreme amount of surface heat at the turbo charger that radiates directly into the aluminum head reducing the engine ECU's ability to advance ignition and fueling maps due to detonation. Besides strict global emissions standards resulting in restrictive catalytic converters being installed, oem engineers must factor global restrictions on minimum clearances for front impact crash test results when packaging and designing the factory turbo downpipes.   Each HPA downpipe application is designed around emissions compliance requirements, thermal radiation/contact surface clearances and engine ecu software framework. The calibrators drive the hardware demands to ensure that the dimensions and catalytic converter requirements are calibrated within the spectrum of the ecu's capabilities. The goal is to reduce the heat at the mounting surface of the turbocharger to the aluminum head. When the balance of heat reduction has been realized, the calibrators can create a fuel and ignition mapping that will ensure that the tailpipe gases are clean and the boost levels can be raised. Heat is the enemy of HP and even your stock mapping will benefit form a more fluid design of exhaust gas discharge.     The average OEM 63mm downpipe diameter coupled with a restrictive catalytic converter and varying angles don't allow for ideal flow specifications and result in higher back pressure at the turbo forcing it to work harder and generate excessive heat.   HPA's resulting 3″ downpipe is a fabrication assembly designed around functionality and durability and proudly manufactured in Canada. .063wall T304L stainless mandrel tubing is precision tig welded and Argon back purged for an ultra clean look on the exterior and a perfect clean weld on the interior. Our CNC formed hanger and laser cut flanges mate this assembly to the chassis and will withstand the thermal conditions the turbo will generate. Our flex couplings feature an internal stainless steel interlock liner that facilitates smooth flow of high temperature exhaust gases.   HPA EA888 Gen 1 and 2 street downpipes come standard with our 100C high flow cats while the new MQB GTI and Golf R come standard with our 300 cell metal cat, the same quality of cats used on all HPA twin turbo high performance vehicles.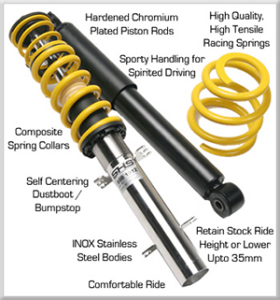 Developed in conjunction with the engineers at KW Automotive, the team at HPA Motorsports has designed an out of the box solution that is preset to perform…
HPA's SHS coilovers offer an unmatched balance between handling and comfort. All SHS applications are based off KW's twin tube low pressure damper design. Embracing KW's patented valve technology, the high-speed dampening characteristics remain similar to OEM offering a near factory comfort level, while the low speed dampening power is increased to eliminate pitch and roll associated with heavy braking or corner entry. Each application features linear race springs on the front and progressive barrel spring on the rear.
SHS is the PERFECT suspension solution for the enthusiast looking to gain better control at corner entry on high-speed sprints, yet uses their car in the harsh real world environment.
Key Features
The stainless steel construction guarantees the height adjustability won't be lost through commuting on salt covered winter roads. KW –INOX technology
Self centering integrated dust boots. Keep the winter sand and debris from damaging the Piston Rod seal for long life
Stainless steel impregnated composite spring seats offer easy ride height adjustment all season long. No binding conventionally found with aluminium seats
Race Springs are EPS powder coated and Zinc phosphated for long life
Springs are made from chrome-silicon steel
54SiCR6 offering higher carry capacity with less
material than standard steel wound springs
Height adjustable on all 4 corners
Spanner Wrench included for adjusting ride height
2 Year Manufacturers Warranty through KW Automotive